ABOUT OUR STUDIO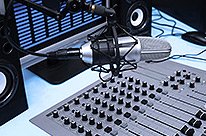 BUSINESS AUDIO ADVERTISING - VOICEOVERS, MESSAGES ON HOLD, IN-STORE MUSIC
From our studio complex located at Nerang on the Queensland Gold Coast we create and deliver high quality audio productions to businesses in Australia, New Zealand and internationally.
Our studio is a specialised voice recording facility with six separate production areas for compilation, mixdown and mastering. We are equipped with state of the art digital technology and have a team of skilled and experienced audio engineers/producers. Plus we have on call an extremely large variety of professional male and female voice over artists.
Our studio is constantly involved in creating advertising and business communications so we have our own in-house copywriters and the services of regular free-lance writers.
We produce audio for radio, television, cinema, the internet, telephone messaging, in-store promotions, e-commerce and power-point projects. Whenever a business needs quality audio, we are here to provide it.
It is important that a company always presents itself in the best and most professional way possible. With a television commercial or radio spot it's essential to maintain the quality image of the company. This is also the case with the way a business "sounds". For example on the telephone. Even something as simple as the After Hours Message on the phone. If it is done badly it can leave callers with a very poor impression of a company.
Our studio forms a part of Media Group Pty Ltd the business audio specialists. Using the speed and convenience of the internet we are able to provide shorter lead times and faster turn-around for any audio task. We give clients added flexibility and a greater choice in voices and royalty-free-music catalogues. Plus the assurance of best quality.
A business always needs to sound its best and our studio makes sure it happens.
Request a free quote today, click here.